I know, I know! Innis And Gunn is a Scottish brewery! I said I was focusing on Irish beers this week for St Patrick's Day. But hey, Ireland and Scotland? Same thing right?…Just kidding.(I don't want to get my ass kicked) But this Scottish oatmeal stout is Irish Whiskey Cask matured. So the influence is there. But unlike their rum and bourbon cask beers, you can barely tell. But that's ok! It's still a very drinkable, delightful, stout.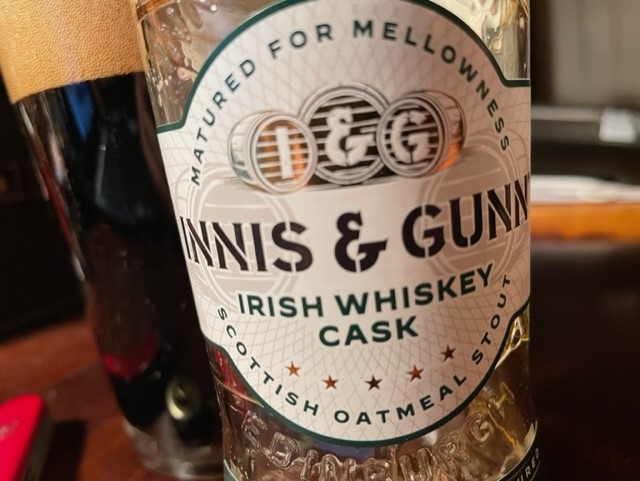 It pours black enough to block out any light with a thick, tan head that you could scoop out with a spoon. I got a whiff of smokey malt, coffee, and a bit of vanilla and Raisinetes. I was expecting a taste of whiskey up front but got more coffee, dark chocolate, burnt toast and a tiny bit of toffee. The whiskey came on the finish but it was very subtle with the sweet malt. While I was disappointed with the level of whiskey it was still a fine experience. It's smooth and captivating and not too much of a head knocker at 6.1% ABV. Despite it's easy going feel it still has a great mix of flavors unlike any other stout.
The Sonic Pairing: Smooth, sweet, with a hint of whiskey. Feels like Van Morrison's "Moondance". Easy going with a lot of soul. Big brassy horns add layers of sounds with R&B, Jazz, and Irish folk influences with Morrisons sweet sweet voice. But much like this stout the Irish influence is subtle. I definitely fell in "Crazy Love" with this one. It may take you on a journey in your "Caravan" "Into The Mystic".
All beers featured in the Pike Sonic Beer Blog can be found at Wachusett Wine And Spirits in West Boylston and Worcester.